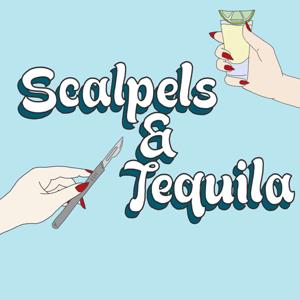 The Holidays are upon us and the team at Grey Sloan all celebrate in different ways.
Meredith does a lot of solo acting with her phone and speaking of Zola - ya girl is WOKE. Webber and Levi are acting like excited interns at the prospect of carving into some trauma. We are traumatized along side Nico by what Levi's mum bring to the table. Someone should get Amelia a sex toy for Christmas.
Some heated debates about pie, food storage, family fun nights and ALTERNATIVE ENDINGS are coming your way this Tof/urkey Day!
Contact us at 
email - [email protected]
Instagam - @scalpelsandtequilapodcast
@missthayes and @ms_ayla_azure
Tamzen and  Ayla 
x
Hosted by Tamzen Hayes and Ayla Azure
Greys Anatomy Credits
Created by Shona Rhimes
Starring
Ellen Pompeo - Meredith Grey
Chandra Wilson - Miranda Bailey
James Pickens Jr - Richard Webber
Kevin McKidd - Owen Hunt
Kim Raver - Teddy Altman
Kate Walsh - Addison Montgomery
Camilla Luddington - Jo Wilson
Caterina Scorcone - Amelia Shepard
Kelly McCreary - Maggie Pierce
Chris Carmac - Atticus Lincoln
Richard Flood - Cormac Hayes
Jake Borelli - Levi Schmitt
Anthony Hill - Winston Ndugu
Jaicy Elliot - Taryn Helm
Abigale Spencer - Megan Hunt
Scott Speedman - Nick Marsh
E.R Fightmaster - Kai Bartley
Greg Germann - Tom KoracickSupport the show
This podcast is recorded on stolen land of the Wurundjeri people. We also acknowledge that medical practices of the traditional owners of these lands were developed and used way before the medical practices discussed in this show, they are also continued to be used today.
Contact us at
[email protected]
Instagram @scalpelsandtequilapodcast
Patreon/scalpelsandtequila
@missthayes and @ms_ayla_azure