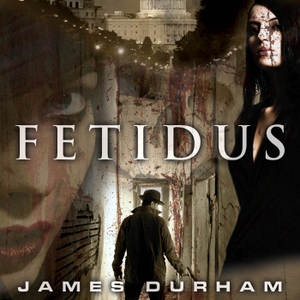 And so the journey is complete, my
friends. Episode 20 is here at last! The massive, thrilling,
apocalypse-busting 2-hour finale will take you all the way to the end of
this twisted, dark tale. FETIDUS: The Damned Heir Episode 20 awaits your listening pleasure. Please, come inside, turn down the lights and join Art Blanchard in this final, most beastly of episodes of FETIDUS: The Damned Heir. Also,
a huge, warm thank you to the magnificent cast for delivering such
passionate performances. And I must thank this fantastic audience for
joining and supporting both Art and me on this journey. Thank you to all
for making this such an incredible experience for me. More on all that
later... check back in the coming weeks for a follow-up post-mortem
show! As always, please feel free to share FETIDUS far and wide if
you enjoy it! After all, it's about making the world a better place,
isn't it? Well, you'll see. And now, prepare yourselves for the final
episode... Click below to listen to FETIDUS: The Damned Heir - EP20:
Episode 20 (Chapters 52-55 + Epilogue): 00:00 - Intro music and credits This
episode is read by the author and features the following voice talent:
Prebble Q Ramswell, Jose de la Mar, Patrick Nugent, Valerie Durham, Sara
Barrack, Bob Holmcrans, Liliana Ayende and Matthew Wayne Selznick. See CAST page for more details. Also features the evil laugh from Travis Nelson, Winner of the Great Evil Laugh Contest.01:57 - Chapter 52"Nice night for some lies..."
...do you realize what's at stake?21:17 - Chapter 53"You should be ashamed of yourself..."
The damned and innocently damned...1:00:02 - A word from our sponsor, Hot Chicks with Guns and Knives! 1:02:39 - Chapter 54"...it is time..."
Is there any hope?1:34:30 - Chapter 55"What might be lost..."
Of threads and promises...1:55:15 - Epilogue 1:57:28 - Outro Thanks for listening! If you enjoy this episode, please share it!