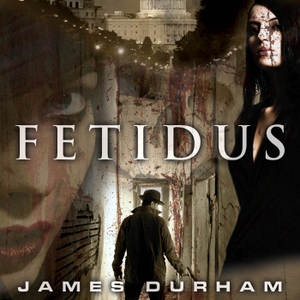 Lucky Episode number 13 here! Come and get it. This one takes a dark path down a darker alley into Art Blanchard's
shadow-enshrouded mind. Be warned, there are no butterflies and daisies
in this episode. Brace yourself, and download now... As you well
know (but it's a post-apocalyptic custom to mention it again), please
feel free to share FETIDUS far and wide if you enjoy it! After all, it's
about making the world a better place, isn't it? Well, you'll see. Click below to listen to FETIDUS: The Damned Heir - EP13:Episode 13 (Chapters 33-35):00:00 - Intro music and creditsThis
episode is read by the author and features the following voice talent:
Prebble Q Ramswell, Valerie Durham and Jose de la Mar. See CAST page for more details.01:57 - Chapter 33"One thought permeated my mind..."
Of inhibitors and supple flesh...22:17 - Chapter 34"...via alleys, garages, back doors and shadows..."
What would Art do without Milla?28:24 - A word from our sponsor, The University of Maryland School of Undead Research. 29:51 - Chapter 35"I've told you once, I've told you a hundred times!"
Two needles to cross over, and one needle to change everything.43:49 - Outro Thanks for listening! If you enjoy this episode, please share it!