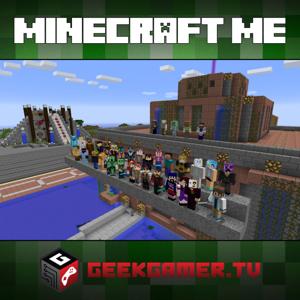 We begin to say goodbye to the awesome Season 3 Map by seeing what our moderators and admins picked for Showcases!  We also cover the questions as well in this packed episode of Minecraft Me!
Show notes and episode page here: http://ggtv.me/mm174
Please RATE, FOLLOW and SUBSCRIBE!
Support Minecraft Me on Patreon! http://patreon.com/minecraft
Server Information:  http://geekgamer.tv/mcserverinfo
YouTube:  http://youtube.com/GeekGamerNetwork
Dailymotion:  http://dailymotion.com/GeekGamerTV
Twitter:  http://twitter.com/GeekGamerTV
Facebook:  http://www.facebook.com/geekgamertv
Google+:  http://plus.google.com/+GeekGamerTV
Steam:  http://steamcommunity.com/groups/geekgamertv
Hosts: Chase Nunes, Joseph Falbey
Minecraft can be found at: http://www.minecraft.net
 
Support the show on Patreon and become one…TODAY!
GeekGamer.TV Updates via E-Mail: Subscribe to GeekGamer.TV by Email
Like our Facebook Fan Page, Join our Facebook Group, Steam Gaming Group and also follow us on Twitter!
Connect with us!
Minecraft News:
No News!
Season 3 Moderator Submissions!
Player name: plleg
Player name: Austin126936
Player name: TamiTam55
Player name: jeninthemorning
Player name: Jose042
Player name: dtherr
Player name: SuperBeez
Player name: kiendro
Player name: BuckeyeCarl
Player name: T1mberW0lf
Player name: ccocking
Player name: Icon_Z1
 
 
Patreon Supporters for This Episode!
AKBoarder23
allieblaster
AMaeBarkley1
andyb2k
aractor
Bburg
Bburg(zowka_)
BevK_2
bigb13
billt2006
BK_2evedYHVH
BlastForCats
BlkR0se
BuckeyeCarl
carter98521
CEH1
CheekyMonkeyIan
Chewbacco_77
chloe1103
ColinLovesGreen
covarianttensor
Dangelus
deadigger
Deadigger
DesignOutlaw
Dgtlreaper
Dizastary
DoctorSmeg
dogeking64
doogie89
Doudrious
douglas1989r
dtherr
Ed Mayhall
Ender_Guy14
ExtraordinaryBen
Fifty2Eighty
fuzzycupid
G0atbabe
gpa46
gradrock
Gradrok
Icon_Z1
Indiana_Dave
IRON_Midge
JasonGoose
jeninthemorning
jgeekw
JoseO42
josephizf
Jsolid110
jwalls1082
lhdaland
lincoln1313
LincolnMC_
liser5
MartyGraw76
maxthecute
McGowan9IX9
Michael244892
Mr_Buzzz
Nivekbob
OtiosePadre
Pcteppum
PCteppum
PEGGUM
Peyton025
plleg