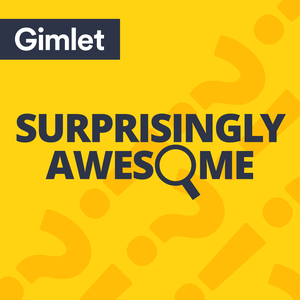 The Facts
This week, we're joined by comedian Maeve Higgins.
Surprisingly Awesome's theme music is "How We Do" by Nicholas Britell. Our ad music is by Build Buildings. Andrew Dun mixed this episode.This episode was edited by Annie-Rose Strasser, and Peter Clowney and produced by Rachel Ward, Christine Driscoll, and Elizabeth Kulas. 
Jacob Cruz, David Pitman, and Laura Varela provided production assistance. 
Thank you to New England Public Radio and KQED in San Francisco. 
Learn More
Impress us and Punmaster Gary Roma with your best #flossipher puns and send them to us at @SurprisingShow
Did you like our incredibly fast description of biofilm? You can read a very approachable primer about the biofilm in your mouth here.
Not enough floss, hoss? You can get more flossing fix in the ebook - The Joy of Flossing, which we read for this episode. It's just 42 pages and it you'll even find some philosophy in there, too.