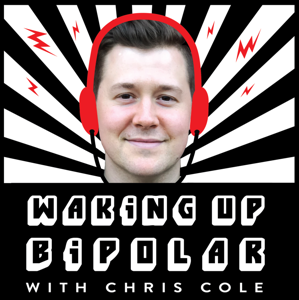 In this episode of Waking Up Bipolar, Chris Cole speaks with Gabe Howard— host of The Psych Central podcast, award-winning writer, and sought-after speaker. In 2003, he was formally diagnosed with bipolar and anxiety disorders after being committed to a psychiatric hospital.
In his writing, speaking, and in life, Gabe is direct, charismatic, and approachable. He loves interacting with people, and he discusses the serious topic of mental illness with the right blend of education and entertainment. He makes his home in the suburbs of Columbus, Ohio. He lives with his supportive and patient wife, Kendall, and a Miniature Schnauzer puppy that he never wanted, but now can't imagine life without.
I have a great deal of respect and admiration for Gabe Howard's pragmatic approach to raising awareness and doing good for those of us identifying with bipolar. Thanks for joining us!
Stay in touch with Gabe Howard (and get a bipolar emoji tee shirt) online at gabehoward.com
You can check out The Psych Central Show podcast by visiting PsychCentral.com/show 
You can also join his online Facebook community, The Positive Depression/Bipolar Happy Place.
JOIN THE DISCUSSION at https://www.facebook.com/groups/wakingupbipolar
Chris Cole hosts the Waking Up Bipolar podcast, focused on the intersection of bipolar disorder and spiritual awakening. He is the author of The Body of Chris: A Memoir of Obsession, Addiction, and Madness, inspired by his own journey of spiritual unfolding and mental health challenges. Chris Cole offers life coaching for any number of mental health conditions, specializing in bipolar disorder and spiritual emergence. Chris's experience with addiction, disordered eating, body dysmorphia, psychosis, and spiritual emergency allows him to relate to a wide range of clients. He utilizes a holistic approach to mental health which views wellness in physical, mental, emotional, social, and spiritual domains. Learn more about Chris and his work at colecoaching.com.
The Waking Up Bipolar podcast in now available on the following platforms:
Apple Podcasts | apple.wakingupbipolar.com
Google Play | google.wakingupbipolar.com
Stitcher | stitcher.wakingupbipolar.com
TuneIn | tunein.wakingupbipolar.com
wakingupbipolar.com