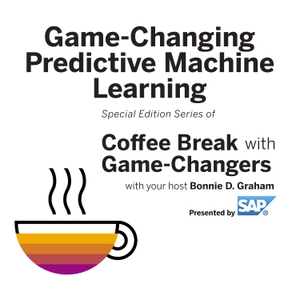 Game-Changing Predictive Machine Learning, Presented by SAP
By Bonnie D. Graham
What's Game-Changing Predictive Machine Learning, Presented by SAP about?
As business rapidly evolves and constantly changes, those in the driver's seat have tried to divine the future. Predictive Machine Learning is helping them do just that in a meaningful, impactful way by addressing key business and operational questions, driving ROI, and improving margins. Predictive Machine Learning is truly useful when predictive output is embedded within applications as native features. Line of Business demands for prescriptive insights, coupled with a scarcity of skilled data scientists, compel business people to become 'citizen data scientists' to drive predictive capabilities. It is time to think differently about Predictive Machine Learning and how it can transform the work experience.brbr
Join host Bonnie D. Graham as she invites you to take an additional coffee break with game-changers in our series on how SAP is redefining the role predictive capabilities plays in business, on Game-Changing Predictive Machine Learning.