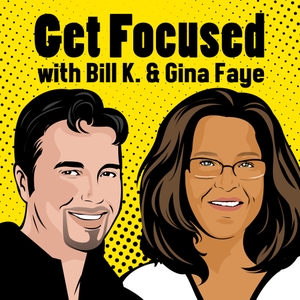 Get Focused with Bill K. & Gina Faye
By Bill Kurzeja
What's Get Focused with Bill K. & Gina Faye about?
Welcome, to the Get Focused Podcast…Hosted by, Bill K. & Gina Faye Marriage & Family Therapist, LMFT, IDHP
Bill started his journey over 20 years ago, taking on life's toughest challenges head on. After serving in the military, Bill made it his mission to conquer professional sales, and now he's helping individuals & companies blow past their obstacles, embrace insight, wisdom & inspiration, and create strength, purpose & motivation in everything you do.
It has been Gina's experience that an important component of successful therapy is the therapeutic relationship that gets formed. She enjoys working with most people and finds that she is most effective to the extent that a safe and trusting space can be created where her clients are able to communicate whatever they need to without fear of judgement. She has also found that she is not able to be of any help at all, unless her client is invested in their healing process, willing to do the work that's involved, and is not looking for their therapist to tell them what to do.
She particularly enjoys the challenge of working with couples. She makes it a point of treating the couple, not either of the individuals involved. She does not take sides, but rather tries to help each person see and understand the other's perspective.
In this podcast you will experience and learn from people from all different walks of life. The stories and experiences that we have all faced or will face and how to overcome your fears and Get Focused.
Be a part of the show!!
Call 619-894-7832
Leave a question for Gina and Bill K to discuss and answer on the
show.
Want more?
Visit billkmarketing.com or https://www.facebook.com/billkmarketing/ and learn about speaking opportunities, how Bill can work with you for one-on-one training, or pitch an idea for the show.
Find Gina at psychologytoday.com or https://www.facebook.com/onelistener1/
Join us again next time as Bill helps individuals & companies blow past their obstacles on the GET FOCUSED podcast!