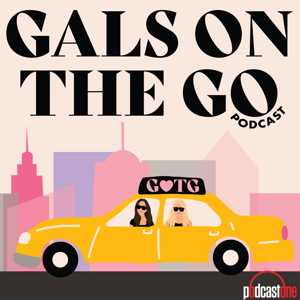 GIRL TALK: green flags, confidence chat + learning to love yourself!
01.11.2022 - By Gals on the Go
Brooke and Danielle are sitting down for a GIRL TALK!  The gals discuss some dating green flags they experienced which indicated that they are in the right relationships, confidence when it comes to social media, and how they are learning to love themselves!  Brooke and Danielle also discuss their weekends, and Danielle's travel to Indiana.  Be sure to tag @galsonthegopodcast in your listening selfies/stories!
SHOP GOTG MERCH! https://fanjoy.co/collections/gals-on-the-go
GOTG YouTube Channel (watch episodes with video!)  https://www.youtube.com/channel/UCkCy3xcN257Hb_VWWU5C5vA  
Gals On The Go Instagram https://www.instagram.com/galsonthegopodcast/  
Brooke's Youtube Channel https://www.youtube.com/brookemiccio  
Brooke's Instagram https://www.instagram.com/brookemiccio/  
Danielle's Youtube Channel https://www.youtube.com/c/daniellecarolan  
Danielle's Instagram https://www.instagram.com/daniellecarolan/  
Business Inquires Can Be Sent to: [email protected]
Please support our show by checking out our sponsors!
ort the show by checking out our sponsors!
PH-D: Register now at phdfemininehealth.com/win to receive a FREE Lifestyle Subscription Box from our friends at Bombay, also get 20% off all products right now! Use code GALS
BetterHelp: Gals on the Go listeners get 10% off their first month at BetterHelp.com/gals
Headspace: Try HEADSPACE at HEADSPACE.COM/GALSONTHEGO and get one month FREE of their entire mindfulness library.
Hi-Chew: Check out how you can become a member of the HI-CHEW CHEW CREW, which is an exclusive club where you receive special offers and all the cool things! Go to Hi-Chew.com/win!
HoneyLove: See for yourself at Honeylove.com and get 20% off a second item. PLUS, when you use code GALS, you'll get an ADDITIONAL 10% off your entire order!
StitchFix: Get started today by filling out your style quiz at StitchFix.com/ONTHEGO
Square Space: Head to squarespace.com/GALS for a free
trial, and when you're ready to launch, and use OFFER CODE: GALS to save 10% off your first purchase of a website or domain.