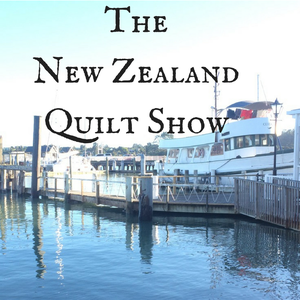 Gloria Loughman is a quilt artist who lives in Victoria, Australia.  She began patchwork about 30 years ago during recovery from chemotherapy for breast cancer.  Gloria studied for a Diploma in Art in 1996 and then began to make her large colour and light filled landscape quilts that she is most well known for. 
Gloria has won many awards, including the Rajah teaching award in 2009, and the most prestigious Australian National award for her quilt 'Kimberley Mystique' in 2003.  Gloria is a trained secondary teacher and has taught her art quilting classes for many years.   She travels to teach extensively, with more than 20 countries under her belt. 
Gloria is also the author of four art quilting books (the most recent on architecture and house facades has just been released), she has a Craftsy class, has had many solo exhibitions and will be teaching at the NZ National Quilt Symposium in October.
If you would like more information, head to the shownotes at www.theslightlymadquiltlady.blogspot.com
Thank you to everyone who supports this podcast and helps me tell the stories of our quiltmakers, artists and professionals. If you would like to support me, head over to iTunes and leave a five star review, leave a donation to help me produce the podcast, or consider advertising your business by sponsoring an episode. Email me at [email protected] Cheers!