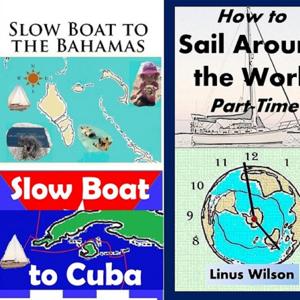 We're podcasting from Providencia, Colombia in the middle of the Caribbean Sea. We are preparing for the next weather window to take us to Panama.
We talked to Don McIntyre the creator of the 2018 50th Anniversary Golden Globe race. Small stout boats without electrical gadgetry like GPS will engage in the "slowest race in the world," reliving the famous 1968 race.  Mr. McIntyre think the winner will be alone on the ocean for 8 months or more in the update of the race that made Robin Knox Johnston and Bernard Moitessier household names.
The 2018 Golden Globe Race Route 
Don McIntyre told about some of his past adventures such as his reenactment of the Lt. Bligh's open boat voyage from Tofu, Tonga to Batavia, Indonesia.
Below is a picture of Mr. McIntyre and another lover of the sea.
This episode is sponsored by Jenifer Clark's Gulfstream. The Slow Boat crew relied on Jenifer Clark's Gulfstream for their Panama trip thus far. Call 410-286-5270 or e-mail [email protected] so you can find out how their current and weather routing can aid you in your next blue water voyage.
YOU CAN GET ALL THE BONUS EPISODES IF YOU PLEDGE AS LITTLE AS $1 TO THE SLOW BOAT SAILING PODAST'S PATREON SITE.  HALF OF THIS WEEK'S INTERVIEW IS ONLY AVAILABLE TO THOSE WHO PLEDGE ON PATREON.  THAT SECOND HALF OF THE INTERVIEW WITH CHERYL BARR TALKS ABOUT VISITING HAVANA AND VARADERO. THIS IS ONE OF MANY BONUS EPISODES AVAILABLE TO PATRONS ONLY. ALL PATRONS ARE GIVEN THE AUDIOBOOK OF THE #1 SAILING BESTSELLER HOW TO SAIL AROUND THE WORLD PART-TIME. 
There are many ways to support the podcast in addition to being a patron.
Thanks for joining the voyage!  Check out my book How to Sail Around the World Part-Time, which is now available as an album on iTunes or Amazon. Links to my books are at my website. Buy How to Sail Around the World Part-Time or Slow Boat to the Bahamas at Amazon. Both books have been #1 bestsellers in the Amazon sailing eBook categories. (If you are a non-US Amazon customer, e-mail me at linuswilson outlook [dot] com, and I'll send you the link addresses for your country's site.)  Like our Facebook page or follow us on Twitter and tell your friends to do the same. I'm putting up more videos of the Slow Boat crew on YouTube. Subscribe to my free newsletter at http://www.slowboatsailing.com for free books and boat repair and upgrade tips.  There you can also find a orange banner link at the bottom of the page and promo code to save $15 off your next purchase of $200+ at West Marine. Write a review on iTunes for the podcast or on Amazon for my books.  Finally, have some fun on the water!