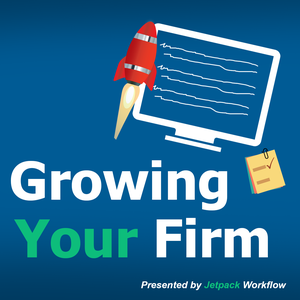 Growing Your Firm | Strategies for Accountants, CPA's, Bookkeepers , and Tax Professionals
By Jetpack Workflow
What's Growing Your Firm | Strategies for Accountants, CPA's, Bookkeepers , and Tax Professionals about?
Growing Your Firm is the Top Podcast for Ambitious Firm Owners to find tips, tactics, and strategies on how to Grow their Firm (or practice!).
In this podcast we'll be interviewing Top Thought Leaders in Accounting, Tax, Bookkeeping, Practice Management, Marketing, Social Media, Succession Planning, Partner Relations, Pricing, and much more.