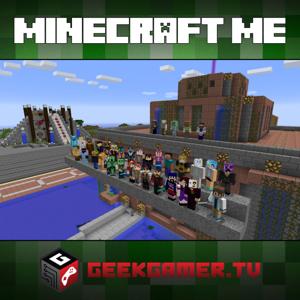 Count the votes…1…2….3….hahahahah!  It's time for the Halloween Challenge Results Show!  See which challenge got first place from the community voting!  We also cover the Minecraft News of the Week, have a Pack Pick, take your questions AND reveal the next Server Challenge!  All this and more!
Show notes and episode page here: http://ggtv.me/mm149
Please RATE, FOLLOW and SUBSCRIBE!
Support Minecraft Me on Patreon! http://patreon.com/minecraft
YouTube:  http://youtube.com/GeekGamerNetwork
Dailymotion:  http://dailymotion.com/GeekGamerTV
Twitter:  http://twitter.com/GeekGamerTV
Facebook:  http://www.facebook.com/geekgamertv
Google+:  http://plus.google.com/+GeekGamerTV
Steam:  http://steamcommunity.com/groups/geekgamertv
Hosts: Chase Nunes, Joseph Falbey
Minecraft can be found at: http://www.minecraft.net
 
Support the show on Patreon and become one…TODAY!
GeekGamer.TV Updates via E-Mail: Subscribe to GeekGamer.TV by Email
Like our Facebook Fan Page, Join our Facebook Group, Steam Gaming Group and also follow us on Twitter!
Connect with us!
Minecraft News:
Spigot Updates
http://www.spigotmc.org/threads/spigot-update-20141113a.35171/
http://www.spigotmc.org/threads/1-8-testing-begins.34636/Patreon!
 
Support us on Patreon
http://www.patreon.com/minecraft
Haunted House Results!
3rd
skeletor8849
This is a haunted house. It is very spooky and I hope you enjoy it. Happy Halloween!
2nd
AMaeBarkley
Haunted House/Mansion composed of primarily Nether Brick. Don't miss each outside detail from the cob webs, fire, Jack o' Lanterns, and spooky tree coverage to the unique graveyard accompanied by a lava fountain and overgrown grass.
There is a lot to be seen on the inside as well! 3 floors and a sky high tower to an amazing view! Unique light fixtures, 2 fireplaces, several paintings, cobwebs and more jack o' lanterns giving this home an unsettling spooky feel. Proceed with caution to the the underground floor known as "The Pit of Despair" where you're sure to get a warm fuzzy feeling.
Enjoy!
1st
JenintheMorning & Kiendro
A house which the front is based on the Winchester Mystery House. Traverse the haunted hallways and discover the cause of the disturbance deep in the basement labyrinth. Things can get a bit rough with the number of undead that roam o...