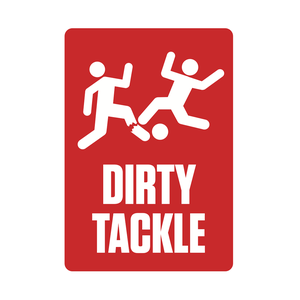 While Ryan and Theo argue over who gets to take penalties for DTFC, we dirty tackle Birmingham for abandoning the Harry Redknapp project, Shanghai Shenhua for thinking they could get Carlos Tevez to care, and Arsenal's premature pitch invader for being a premature pitch invader. Plus, we have a special message from one of Alexis Sanchez's dogs, a lively round of True Are Ya?, and some Life Reffing on Neymar v Cavani, celebrating goals against your former club, and abusing the good sportsmanship of your opponents. 
To hear our bonus "Extra Time" segment, contribute and join the ET Gang at patreon.com/dirtytackle! This week we discuss Wayne Rooney's community service, Pulisic hype, Rio Ferdinand's boxing career, and Ryan's weird backpack thing. Contact us at DirtyTackle@gmail.com with your Dirty Tackles of the Week and Life Ref queries, and find us on Twitter @DirtyTackle, @BrooksDT, @RyanJayBailey, @TheoMessiDT, on Instagram @DirtyTackle, and at Facebook.com/DirtyTackle.
Join our Togga fantasy Premier League Perfect XI group! Compete against Brooks, Theo, Ryan, and Producer Bobo! tog.ga/dirtytackle.