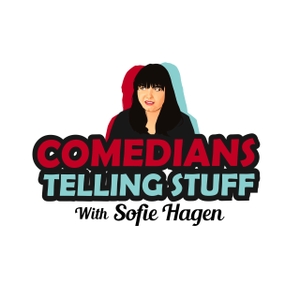 Heckler comes from the latin word 'hecklarus' which means 'really annoying and often stupid audience member who interrupts a otherwise perfectly funny comedy shows to provide comments that will essentially throw the comedian and the whole show off, what a prick'.
In this fifth episode of the fourth season of Comedians Telling Stuff, the six comedians will tell their favourite heckler-stories.
Once more, you will meet the awesome comedians Ian Stone, Ray Peacock, Morten Wichmann, Celia Pacquola, Daniel Sloss and Pappy's.
I am, as always, your host Sofie Hagen and for the first time, I have not edited out my mistakes in the intro.
You're welcome.
If you like this podcast, show your appreciation by sharing the podcast on Twitter (@TheCTSPodcast) or on Facebook. Or by donating, which can be done through comedianstellingstuff.com - just click the PayPal button.
You can also be a supporter through our new Patreon-account: www.patreon.com/comedianstellingstuff