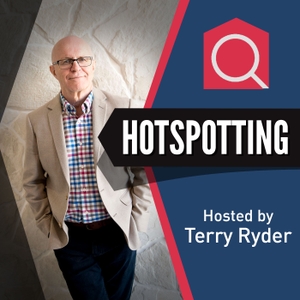 Hotspotting
By Terry Ryder
What's Hotspotting about?
Uncovering hot property markets, today. Hotspotting has always been about helping investors find the best location to buy based on quality research. The Hotspotting Podcast is about delivering this information and more! In each episode Terry Ryder from Hotspotting and Drew Grosskreutz from Otium Group bring you knowledge and interesting conversation on everything a property buyer wants and needs to know to make informed decisions. From unravelling the latest data, trends and market statistics, discussing areas of growth and the bigger issues influencing Australia's property landscape. Whether you're a seasoned property investor or you're buying your first home, we're here to build your knowledge. Knowledge gives you the power to make smarter investment choices.

About the hosts:

Terry Ryder
Terry Ryder is the founder of hotspotting.com.au.
For 32 years, Terry Ryder has been a specialist researcher/writer on residential property in Australia. In 2006 he created Hotspotting.com.au to help investors find the best places to buy. Terry's reports and commentary are based quality data and information. His views are totally independent and free of vested interests or outside influences.

Drew Grosskreutz

CEO and Financial Adviser at Otium Group loves taking the complex, technical world of investing and making it simple. We have a done for you financial advice, accounting, finance and property implementation process for time poor investors and FIFO workers and which gets proven results.