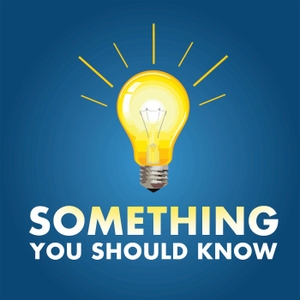 How to Be More Creative Than You Ever Imagined & A Simpler Way to Change Any Behavior
08.26.2019 - By Something You Should Know
People who have high credit scores are often quite proud of them. And there is no doubt that a high credit score is better than a low credit score. But is a high credit score better than an average one? This episode begins with some interesting insight into how credit scores really work. https://twocents.lifehacker.com/your-credit-score-doesn-t-matter-unless-it-s-bad-1785050429
Who doesn't love those great stories of new inventions and other creative breakthroughs? But often there is a lot more to the story than the big breakthrough. Creativity is a process and joining me to discuss how to process works best is Michael Roberto, Trustee Professor of Management at Bryant University in Rhode Island and author of the book, Unlocking Creativity: How to Solve Any Problem and Make the Best Decisions by Shifting Creative Mindsets (https://amzn.to/2ZrqYDk).
Having a lot of debt is bad for your financial health – and it appears to take a toll on your physical and mental health as we. Listen as I discuss the health benefits of paying off debt. https://news.northwestern.edu/stories/2013/08/high-debt-could-be-hazardous-to-your-health/
When you stop and analyze it, a lot of your behavior is habitual. And as everyone knows, changing a habit can be hard. But not always. A lot of it has to do with how you approach it according to Alexander Heyne. He is the author of several books including The Lazy Guide to habit Change (https://amzn.to/2ZkMutn) Alexander joins me to explain how to change any habit or behavior by taking the path of least resistance.
This Week's Sponsors
-Daily Harvest. Go to www.DAILY HARVEST.com and enter promo code SOMETHING to get $25 off your first box
-Upstart. Find out how low your interest rate is by going to www.Upstart.com/something
-Dashlane. For a 30 day free trial plus 10% off Dashlane Premium go to www.Dashlane.com/SYSK