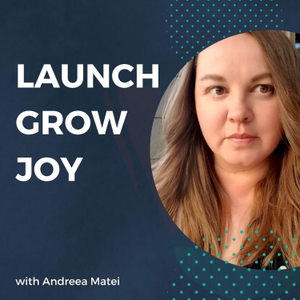 Are you an Etsy seller and want to expand your email list, but didn't know how? Are you doing well in marketing your business, but struggling to grow your following? Then this episode is perfect for you. Michele Gallagher, previous owner of an Etsy shop and owner of My Craft Assistant, is here to tell you how to grow your email list as an Etsy seller.
Her first business on Etsy was a children's jewelry shop. She worked tirelessly to grow her audience and her sales. But despite her efforts she eventually closed her shop.
Michele realized it was a blessing in disguise however - there was significant potential in the untapped potential of search engine optimization (SEO), and email marketing. She saw an opening in the marketplace and her new business, My Craft Assistant, was born.
On this episode of Launch Grow Joy, Michele offers her advice on how to create and utilize email lists on Etsy, how to tweak your email marketing to suit your products, and how to make social media work for you and your business.
In this episode, you'll also hear about:
How to get past any fear you have around marketing.
The most effective ways to use keywords to expand your audience.
How to grow your business with subscriptions.
What can you do to personalize your emails?
How to use creative strategies to make your emails interesting.
And so much more!
Since beginning her Etsy store Michele has had a passion for marketing. She noticed that by selling on Etsy the importance of having a newsletter list. She found that it compliments other forms of marketing, and has increased her following as well as her response rate.
While running her own shop on Etsy, Michele discovered there was support for creating and growing a newsletter, but not necessarily an email list. In addition, she found Etsy had specific rules to create a following on the site, and she had to get creative to grow her list but stay within those guidelines.
In the process, Michele found a few tips and tricks to get the most value out of her email marketing efforts. She shares those on this show. One specific example she gives is the use of personalized subscriptions for Etsy. She says this strategy allows users to receive emails about what their interests so the email they received is tailored to them.
On today's episode Michele gives her best advice on how to create and sustain a workable email list, how to use keywords correctly, and the easiest ways to use search optimization for your benefit. Tune into this edition of Launch Grow Joy to hear it all!
Resources:
My Craft Assistant website
Handmade Newsletter website
My Craft Assistant on Twitter
Google Adwords Keyword Planner website
My Craft Assistant on Facebook
Your Ultimate Online Store
The Shopify Special for Launch Grow Joy listeners
Subscribe to Launch Grow Joy Show on iTunes
Handmade Newsletter examples
Fabrinique
Sweetheart Jewelry Box
https://anchor.fm/app
---
Send in a voice message: https://anchor.fm/launchgrowjoy/message
Support this podcast: https://anchor.fm/launchgrowjoy/support