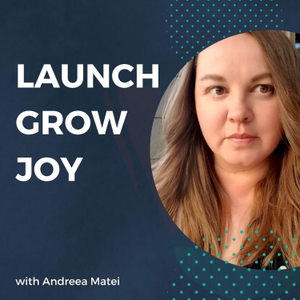 Is there more you could be doing to increase your sales this holiday season? Even if the holiday season isn't your peak time of year there are still ways to offer more for your clients and grow your holiday sales.
Robin Kramer of Flourish & Thrive Academy for jewelry designers and jewelry business owners joins us to talk about this very subject. With decades of retail experience under her belt she is an expert on sales (holiday season and otherwise).
On this episode of Launch Grow Joy Robin offers guidance on how all of us can tap into the holiday market, no matter our niche, and why relationships are so very important to business success.
In this episode, you'll also hear about:
What did she learn working with the likes of Neiman Marcus and Oprah?
What is she most passionate about?
What can make your business AND fill your life?
People don't buy your brand - what do they buy?
How to use postcards to grow your business, and better serve your clients.
And so much more!
From the beginning Robin has had a love for fashion and retail; she began working in her mom's retail shop as a teen, and her career stayed the course. She worked for Old Navy, Anne Taylor, Crate & Barrel and then moved into niche businesses and eventually her own consulting gigs.
Along the way she struck up a friendship with Tracy Matthews, their mutual love of yoga bonding them. They kept in touch over the years and one day met up while in New York. That day Tracy shared an idea she had with Robin: Tracy had a vision to help jewelry designers and jewelry business owners.
Robin loved it, she knew a business could offer programs and services to a variety of people, something she as a consultant couldn't do. From there Flourish & Thrive Academy was born and they've been full-speed ever since.
On today's episode Robin gives explains why collaboration and relationships have been so integral to their success with Flourish & Thrive Academy, plus specific ways to tap into bigger sales this holiday season no matter what your niche and how to be confident when selling, even if you don't like sales. Tune into this edition of Launch Grow Joy to hear it all.
[Tweet "Without relationships you don't have a business!  @Flourish_Thrive"]
Resources:
The Flourish & Thrive Academy website
https://anchor.fm/app
---
Send in a voice message: https://anchor.fm/launchgrowjoy/message
Support this podcast: https://anchor.fm/launchgrowjoy/support