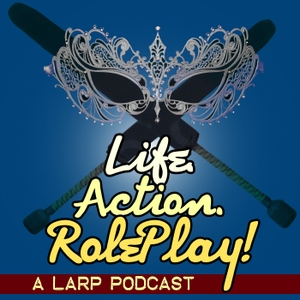 Hosts Cynthia Marie, Kai and Ryan have a full table discussion with guests Vivid Vivka, Aelflaed and Liam Neary on how Veteran players affect long time running games, how they shape the experiences for new players and the whole game world and the responsibility veterans, intermediate players and new players have to each other to keep a LARP community going. 
We also define different ways what makes a veteran player in a LARP.
VividVivka is a one-woman virtuoso of all things geeky. She is an accomplished and seasoned costume designer and cosplayer, specializing in armor and detailed builds. She's a video-game fanatic, Magic: the Gathering obsessed, and has a long list of Waifus. She is currently on Dungeons and Dragons' Maze Arcana Twitch show "Sirens of the Realms", as Ghost. She also plays the Dungeons & Dragons NPC, the Black Viper. She actively participates in a Vampire: the Masquerade LARP, and has a steady hard obsession with LARPing at Twin Mask. Her collection of sparkly dice is to be envied but her rolls are terrible.
Aelflaed is a model, cosplayer, and LARPer from Seattle. She began LARPing three year and immediately fell in love with it. She currently mainly plays Dystopia Rising, but is always ready for the next adventure in whatever world it may be.
Liam Neary is an actor, prop maker, costumer, and Live Action Roleplayer! In his professional experience, he acted as a game runner for Dystopia Rising: Massachusetts, and has worked to broaden his horizons in the hobby by participating in various LARPs internationally. Liam is a nerd extraordinaire working in front of, and behind the camera. While in reality, we have suspicion to believe he may actually be a dead body piloted by 3 cats studying humanity for plots of world domination.Nevertheless, the less we know the better.