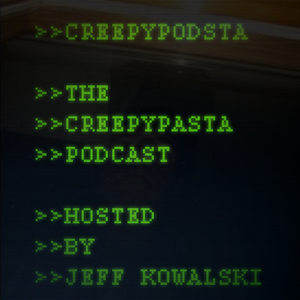 CreepyPodsta: The Creepypasta Podcast brings back Phil Corso and Nick Wood (Stranger Still, Limited Cel) to talk about Jeff Went Left.
Support the show on Patreon! $1 a month gets you two bonus episodes and one short story!
Theme music is by Matt Holt
Upcoming episodes: If the stars look strange, SCP-1425, The Showers, Old MacDonald Had A Farm, Huntsville Camping Trip, A Quiet Place, Verónica, Hereditary, The Ritual
Further reading: The Devil Lives on Old Mill Road, I Want To Scream, The Clear Blue Spring, Dining Room or There is Nothing, I Dared My Best Friend To Ruin My Life, Devil's Night, On A Hill, Cabin Getaway, The Orangutans Are Skeptical of Changes in Their Cages, Arkansas Sleep Experiment, The Separation, Whispers, Dead Arm, Graphic Design, Autopilot, Ben's Playhouse, Monster in the Forest, <a href="https://www.creepypasta.