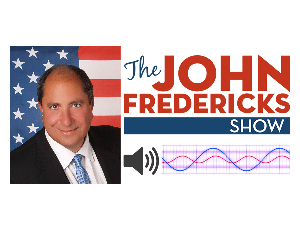 John Fredericks Radio
By John Fredericks Radio
What's John Fredericks Radio     about?
John Fredericks is America's Godzilla of the TRUTH! The John Fredericks Show is uncompromising coverage in the nation and the world. It is the only morning political news-talk show focused on the most important issues that impact the daily lives of everyday Americans. We're Trucking the Truth weekdays from 6-10 AM…and we're either making news or breaking news!
The John Fredericks Show broadcasts live weekdays on WNTW AM 820 / 97.7 FM, Weekdays 6a-10a, Richmond; WWRC AM 570, Weekdays 8a-10a, Washington DC / Northern Virginia; WBRG 1050 AM / 105.1 FM, Weekdays 6a-10a, Lynchburg, Danville & Franklin; WBOB AM 600 / 101.1 FM, Weekdays 11a-1pm, Jacksonville/ St. Augustine, FL & Savannah/Charleston , SC; WPMH Online Stream, Weekdays, 7p-9p, Norfolk, Virginia; and via Live Stream, Weekdays 6-10am. Call into the show at 888-480-JOHN (5646) or TWEET John at @JFRadioShow.