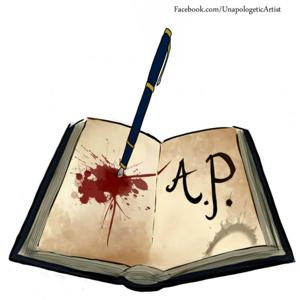 Meet some new artists! DO IT! NOW! I have an author, a Dustin-of-all-trades, a graphic artist, and two podcasts ready to tackle those ear holes of yours.
**Find the transcript for this episode here**
Find all written interviews here
Haunted Happenstance
Facebook Discussion Group
Instagram
Twitter
Hear my IRL spooky story on Share the Scare Vol. 2
Dustin Schyler Yoak
Facebook
Twitter
Instagram
Website
Aphotic Realm Website
Aphotic Realm Facebook
Aphotic Realm Twitter
Masters of the Thundernerds Podcast
Podcast Facebook
Podcast Twitter
Podcast Instagram
Cult of Domesticity
Facebook
Twitter
Instagram
Collab episdoe 1: Horrible Medical Histories
Collab episode 2: David Attenborough and the Victorian Murder
Brooks Bigley
Twitter
Kelly "Nerdzilla" Mendenhall
Personal Instagram
Personal Twitter
Personal Facebook
Podcast Instagram
Podcast Twitter
Buy the book!
----more----
Support This Podcast
Support me on Patreon and keep this podcast going!
Buy merch designed by talented independent artists!
Follow Me
Twitter
Facebook
Instagram
Website