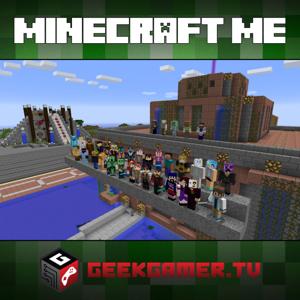 The final episode of Minecraft Me is here!  On this edition we chat about the future of the show, server and we also perform an unboxing of the Mine Chest!
Show notes and episode page here: http://ggtv.me/mm193
Please RATE, FOLLOW and SUBSCRIBE!
Support Minecraft Me on Patreon! http://patreon.com/minecraft
Server Information: http://geekgamer.tv/mcserverinfo
YouTube: http://youtube.com/GeekGamerTV
Dailymotion: http://dailymotion.com/GeekGamerTV
Twitter: http://twitter.com/GeekGamerTV
Facebook: http://www.facebook.com/geekgamertv
Google+: http://plus.google.com/+GeekGamerTV
Steam: http://steamcommunity.com/groups/geekgamertv
Hosts: Chase Nunes, Joseph Falbey
Minecraft can be found at: http://www.minecraft.net
n2hihx5s
Support the show on Patreon and become one…TODAY!
GeekGamer.TV Updates via E-Mail: Subscribe to GeekGamer.TV by Email
Like our Facebook Fan Page, Join our Facebook Group, Steam Gaming Group and also follow us on Twitter!
Connect with us!
Minecraft News of the Week
 
 
 
Patreon Supporters for This Episode!
allieblaster
XineasHD
Gradrok
Taka_Akai
BlkR0se
BlastForCats
BuckeyeAnnabelle
proslaws
Deadigger
DesignOutlaw
Ronin_Slain
jgeekw
zowka_
AMaeBarkley1
DUNCANxIDAHO
Dizastary
Peggum
douglas1989r
JoseO42
dtherr
BuckeyeCarl
AKBoarder23
plleg
jasongoose
T1mberW0lf
Michael244892
jeninthemorning
kiendro
PayBack
IRON_Midge
WndDncr
maloch
cherryberries
legoman67627
matagin
DeathOfTheDepths
Emeraldbeauty526
Masspecialist
Diamondbeauty319
JESSIEPIGMAN
upsidedownoj
Shugshug
LilithDay
renardw
Doogie89
Sheaffer1913
CEH1
ccocking
liser5
SinistralCalluna
TamiTam55
NickSPNT
Dangelus
Indiana_Dave
tyler58546
billt2006
Printmasterz
Mr_Buzzz
RattDog42
Zombie_Pigman42
SirChaos
unicornkarma
jwalls1082
iMineguy1776
kariplaysgames
AndreAwesome
Okay_Bye
JetFlexer
fuzzycupid
SoccerRox19
melon_max
_____Doge_____
ReaperOfSouls212
Lorddude1997
Zeepikay
skytraveler2012
Grimm__Reaper