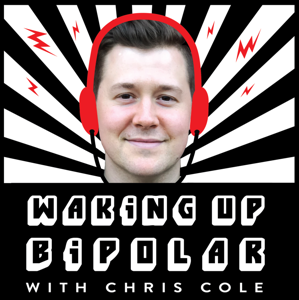 In this episode of Waking Up Bipolar, Chris Cole speaks with Kiana Fitzgerald—music journalist, editor, editorial producer, and DJ. She's currently a staff writer for Complex, an award-winning, multimedia website that focuses on hip-hop music, culture, style, sports and sneakers. She attended Texas State University, where she received a bachelor's in journalism and a master's in new media. Before landing at Complex, she worked for NPR, and a small creative studio that focused on empowering musicians through storytelling. She was diagnosed as bipolar I in 2016 after a manic episode, and has since been searching for answers about the spiritual elements that have revealed themselves through the disorder. You can find her most recent writing at www.complex.com/author/kiana.
As you'll hear in our conversation, Kiana is a rising star in journalism, speaking from her own experiences with a powerful message of love and visibility. She helps break down what is going on with Kanye West, drawing from her own experience which was beautifully articulated in her latest article. Many of you know that I draw my vision of bipolar and neurodiversity from a long history of marginalized peoples, and as a strong Black woman, Kiana naturally draws from such embodied wisdom.
Watch on YouTube: https://youtu.be/ryrIjzpNfVQ
Watch on Facebook: https://www.facebook.com/wakingupbipolar/videos/2034474766801368/
Follow Kiana Fitzgerald on Twitter: https://twitter.com/kianafitz
Read Kiana's article on Kanye West and her own experiences: https://www.complex.com/music/2018/06/kanyes-right-being-bipolar-sucks-but-it-can-be-awesome
Read Kiana's piece on Mariah Carey too: https://www.complex.com/life/2018/04/mariah-careys-bipolar-disorder-revelation-is-gamechanger-for-people-like-me
JOIN THE DISCUSSION at https://www.facebook.com/groups/wakingupbipolar
Chris Cole hosts the Waking Up Bipolar podcast, focused on the intersection of bipolar disorder and spiritual awakening. He is the author of The Body of Chris: A Memoir of Obsession, Addiction, and Madness, inspired by his own journey of spiritual unfolding and mental health challenges. Chris Cole offers life coaching for any number of mental health conditions, specializing in bipolar disorder and spiritual emergence. Chris's experience with addiction, disordered eating, body dysmorphia, psychosis, and spiritual emergency allows him to relate to a wide range of clients. He utilizes a holistic approach to mental health which views wellness in physical, mental, emotional, social, and spiritual domains. Learn more about Chris and his work at colecoaching.com.
The Waking Up Bipolar podcast in now available on the following platforms:
Apple Podcasts | apple.wakingupbipolar.com
Google Play | google.wakingupbipolar.com
Stitcher | stitcher.wakingupbipolar.com
TuneIn | tunein.wakingupbipolar.com
wakingupbipolar.com