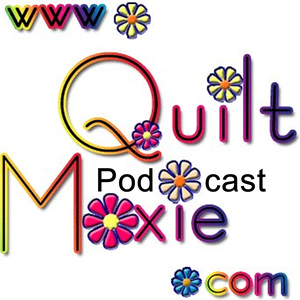 Topics :
1.  Crazy Lace Cardigan + Knit to Flatter
2.  Lace
3.  KnitCompanion KickStarter
4.  Demo - Reversible, Stretchy Crochet Cast-on (YouTube)
This time Ariana is working on lace and shows her progress in 5 Craftsy classes.  
Crazy Lace Cardigan by Myra Wood
Knit to Flatter by Amy Herzog
New Directions in Lace by Romy Hill
Knit this ! Mastering Lace Shawls by Laura Nelkin
Knitting with beads by Laura Nelkin
Check out the Reversible, Stretchy Crochet Cast-on Demo.  A pretty cast-on which shows the familiar crochet "v"s on both sides.
Ariana gets chatty and encourages you to check out and back the KnitCompanion Kickstarter Campaign before February 17, 2014.
She is thrilled with how the QuiltMoxie the Podcast Ravelry group is growing and encourages you to participate in the Free Craftsy Class Contest.
Show notes and everything QuiltMoxie at http://www.QuiltMoxie.com/ShowNotes
Join our mailing list (at  http://eepurl.com/zJ9lH ) to get your next and every episode with Show Notes delivered directly to your email as soon as the episode is available.  It's a simple one-time drop of your email address into the form and check "receive podcast by email".  We respect your email privacy.