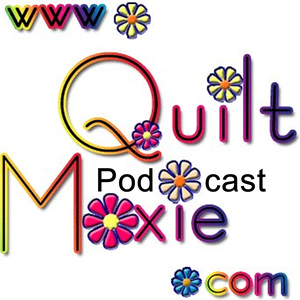 Show notes and everything QuiltMoxie at www.QuiltMoxie.com/shownotes
Topics include:
1. Gallery - Bouquet of Flowers
2. Lace n Beads
3. Contest - FREE Craftsy Class
4. KAL Easy Breezy Brioche 
Olive Poirier, classroom tester for the Cathedral Window Moxie Tool, shows off her whimsical quilt in the Gallery.
Ariana completes the Craftsy Lace classes by Laura Nelkin and Rosemary Hill and shows her wonderful beaded shawls.  Priscella a collector porcelain doll wears the beaded doll shawl.  Find out what ceiling tile wires have to do with blocking lace.
Get ready for the Easy Breezy Brioche KAL (knit a long) which is slated to run throughout the summer.  
 
Join our mailing list ( at http://eepurl.com/zJ9lH  ) to get your next and every episode with Show Notes delivered directly to your email as soon as the episode is available.  It's a simple one-time drop of your email address into the form and check "receive podcast by email".   We respect your email privacy.