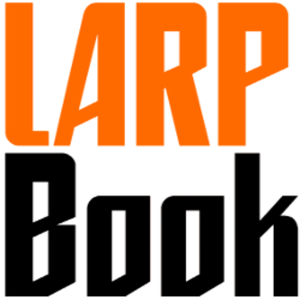 Welcome to this special edition of the LARPBook Show, we have with us Matthew and Steve from Jackalope Studios who are running a Vampire The Masquerade game
Questions:
I know nothing about this so please explain it to a newbie
Are you using the rules from the White Wolf Larp Rules
Could you explain the relationship with White Wolf for this
How does this compare to last years game in Berlin
Can you describe character creation
What are the locations like for this game
What sort of response did you get from fans? As Vampire Masquerade has a huge following.
What difficulties (if any) have you experienced setting this up?
http://jackalope-larp.com/
http://the-night-in-question.jackalope-larp.com/
THANK YOU
A big Thank you to our lovely patrons who make it a bit easier to keep this show going. If you would like to get in contact with the show just email
[email protected], is there a topic you would like us to discuss or something cool you saw or fancy writing an article for the website then email the show
[email protected] 
Music provided by:http://www.bensound.com
Patreon – http://patreon.com/larpbook
Shop: https://www.facebook.com/larpbook/shop/
You can listen to the podcast on iTunes, Stitcher, Youtube, Twitch and Podbean just search for LARPBook email: [email protected]
Website: http://www.larpbook.com
You can follow us on Facebook, Twitter just search for Larpbook and on Instagram thelarpbook Don't forget to give us a five star review on iTunes
Show notes can be found at
http://www.larpbook.com