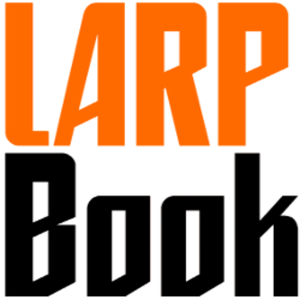 Episode 64 May 9th 2018
Are you looking for top quality larping gear? Then look no further than larpinn, Larp Inn is one of the UK's largest online shops for the Live Action Roleplaying hobby. their Telford based warehouse ships Larp Costume, Larp Armour, Larp Weapons and Larp Accessories all over the UK and abroad. They also operate a showroom where you can drop by and pick up an order, try out a costume or feel the weight of a new larp weapon they also frequently trade at events, so go and take a look at what they have to offer over at
www.larpinn.co.uk and say that LARPBook sent you!
IN TODAY'S SHOW
Curious Pastimes
Pitates yarrrrr
SHOW NOTES
Curious Pastimes the Gaelic one
https://curiouspastimes.co.uk/
Brixham Pirate Festival
http://brixhampirates.com/
Brotherhood of the black (BOB)
https://www.facebook.com/groups/BOBpirates/
Oliver Facey Gallery
http://gallery.oliverfacey.co.uk/
Steve Mitchell
https://www.facebook.com/steve.mitchell3/photos_albums
EVENTS
Green Cloaks Event 1
May 11, Friday – May 13, Sunday
Broadstone Warren Scout Camp and Activity Centre
Convergence Wyverns Tales – annual big event
May 25, Friday – May 27, Sunday
Huntley Wood, Cheadle, Stoke-on-Trent
THANK YOU
A big Thank you to our lovely patrons who make it a bit easier to keep this show going. If you would like to get in contact with the show just email
[email protected], is there a topic you would like us to discuss or something cool you saw or fancy writing an article for the website then email the show
[email protected]
Music provided by: http://www.bensound.com
Patreon : <a class="izt_DWBZ2-s4gzcl1kESk" href="http://patreon.com/larpbook" target="_blank" rel="noopener noreferrer" aria-label="http://patreon.