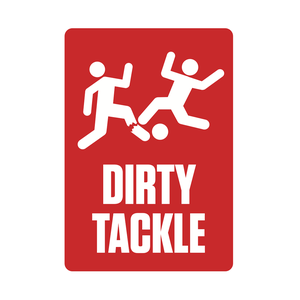 Sponsored by Jamie Carragher's spit-shine car wash and Jose the Insult Comic Manager's new album, we've got dirty tackles for ball grabbing foul seekers, Neymar's Instagram insensitivity, and Leo Messi's nutmeg cruelty. Plus, we discuss Spurs' sexist survey questions, Sergio Ramos taking mid-match bathroom breaks, and we've got some revised Champions League predictions (because Ryan's previous one failed miserably).
To hear our bonus "Extra Time" segment, contribute and join the ET Gang at patreon.com/dirtytackle! This week's topics: Who should replace Jose Mourinho at Man United? Possible footballer endorsements of the future, and gun-toting club owners. Contact us at DirtyTackle@gmail.com with your Dirty Tackles of the Week and Life Ref queries, and find us on Twitter @DirtyTackle, @BrooksDT, @RyanJayBailey, @TheoMessiDT, on Instagram @DirtyTackle, and at Facebook.com/DirtyTackle.
Join our Togga fantasy Premier League Perfect XI group! Compete against Brooks, Theo, Ryan, and Producer Bobo! tog.ga/dirtytackle.