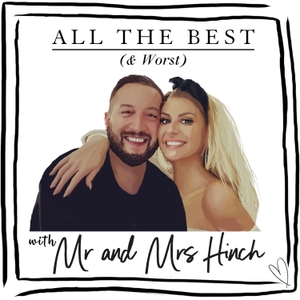 How do Jamie and Sophie manage everything in their lives? Being a successful influencer isn't just instagram posts, there's a lot of work behind the scenes and Sophie and Jamie spill all the T in this episode!
And on top of that, they are juggling raising a family, having a social life and living through lockdown, so how does it all fit together?
In this ep, Jamie and Sophie get a chance to decompress, to talk through all the bits in life they struggle with and the parts they enjoy. Together they chat through how they maintain balance in their lives and where they can work to improve.
And Sophie and Jamie give advice on how to become a social media influencer, from how to get started, to how to organise your day-to-day. Learn straight from Sophie how to have a go yourself.
You'll hear the real story, told by Jamie and Sophie, exclusively on All The Best (& Worst) with Mr. and Mrs. Hinch.
Thank you to our sponsor, Peanut. Peanut is an app connecting women throughout all stages of motherhood. Whether you're a mother, pregnant, or trying to conceive, the app provides access to a community who are there to listen, share information and offer valuable advice. To download the app for free, head to peanut.app.link/hinch
You can get in touch with with sophie and jamie on instagram:
@mrshinchhome
@mrhinchhome