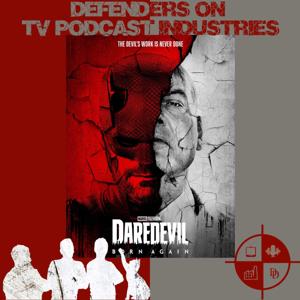 We're chatting all about the season 1 finale in our Loki Episode 6 podcast about "For All Time. Always". We get to the Citadel at the end of Time to meet a being with all the knowledge we've been craving.
Loki Episode 6 "For All Time. Always" Synopsis
Head Writer: Michael Waldron
Episode Written by: Tom Kauffman
Episode Directed By: Kate Herron
After taking control of the guardian Alioth, Sylvie and Loki arrive at The Citadel at the Edge of Time. The creator of the Time Variance Authority resides inside. But they are greeted by a very cheery Miss Minutes. Her true boss "He Who Remains" is willing to give Loki and Sylvie everything they desire, from Victory at the battle of New York and the Infinity Gauntlet for Loki, to a life filled with happy memories for Sylvie. They can both even live in the same timeline. All they have to do is listen to him.
Meanwhile back at the TVA while Mobius and Hunter B-15 reveal the truth to the other minutemen, Judge Renslayer has been given instructions from He Who Remains and she escapes through a time portal to find the one who has "Free Will"He Who Remains invites Loki and Sylvie to talk, but Sylvie tries to kill him at every opportunity. He is able to dodge every attack and explains that he knows everything that will happen in their meeting.
He Who Remains informs them that he discovered a way to connect with other universes and the many variants of him. These variants tried to work together to solve the world's issues, but the good versions of him also existed along with the many bad versions of him. The evil versions tried to exploit their connections and knowledge to Conquer the multiverse; and so began the Multiversal War.
Realising this war would destroy everything, He Who Remains, weaponised Alioth and established the efficient Time Variance Authority and its bureaucracy to remove all timelines that led to the Multiversal War. Leaving him alone in the Citadel at the edge of time. But he's tired. He offers Sylvie and Loki the opportunity to continue his work to preserve the Multiversal harmony or they can plunge the universes into catastrophe and chaos if they choose to end him.
Loki seems willing to accept the offer of He Who Remains but Sylvie kisses him and sends him through a time portal. Finally Sylvie achieves her revenge, kills the founder and awaits the arrival of thousands of his variants and the Multiversal War.As Loki returns to the TVA he soon realises that no one knows who he is, both B-15 and Mobius are confused about who he is and this TVA has someone else very much in charge.
Loki Season 1 Cast
* Loki Laufeyson played by Tom Hiddleston* Mobius M. Mobius played by Owen Wilson* Hunter B15 played by Wunmi Mosaku* Juge Ravonna Renslayer played by <a href...