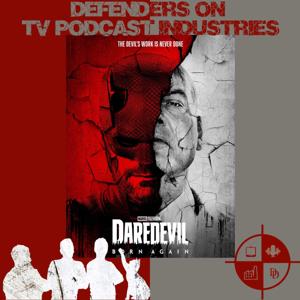 There's so much to discuss from Loki Episode 4 "The Nexus Event". We're discussing the episode in full spoiler filled detail so make sure you've watched the whole episode and the mid credit scene before listening to the podcast.
Loki Episode 4 "The Nexus Event" Synopsis
Head Writer: Michael Waldron
Episode Written by: Eric Martin
Episode Directed By: Kate Herron
At the Time Variance Authority Headquarters, Judge Ravona Renslayer takes the blame for the loss of the variants. Renslayer is taking this very personally as she had the original mission of bringing Sylvie in when she was a child. Mobius is tasked with retrieving the Lokis to restore the sacred timeline.
Meanwhile Sylvie and Loki wait for the coming apocalypse on Lamentis 1. Sylvie explains that as soon as her existence threatened the timeline she was scooped up from Asgard by the TVA but escaped and has been on the run ever since. When Loki reaches out to comfort her, a brand new variation to the sacred timeline occurs allowing the TVA to pinpoint the variants and bring them back.
Now recaptured, Mobius tortures Loki with a memory from Asgard and, when Loki believes Sylvie has been pruned from the timeline, he reveals to Mobius that all of the TVA is a lie. Everyone there once had a life that was taken away from them and wiped by the timekeepers.
Mobius investigates Loki's claims and learns that Hunter C-20 was pruned as soon as she learned the truth and spoke to Renslayer. But when he tries to free Loki he is pruned from the timeline. Hunter B-15 also learns the truth about her past and makes a plan with Sylvie.
When Loki and Sylvie are brought in front of the Timekeepers they learn that the heads of the TVA are just mechanical figures and work together to take out their TVA guards. Believing they've won the encounter Loki attempts to share his feelings with Sylvie before he too is pruned by Renslayer.
As Sylvie threatens the Judge to find out everything about the true TVA, Loki awakes in another place. With three other variants of himself looking on they need to get a move on soon.
Loki Season 1 Cast
* Loki Laufeyson played by Tom Hiddleston* Mobius M. Mobius played by Owen Wilson* Hunter B15 played by Wunmi Mosaku* Juge Ravonna Renslayer played by Gugu Mbatha-Raw* Hunter C20 played by Sasha Lane* Young Sylvie played by Cailey Fleming* The Variant/Sylvie played by <a href="https://www.imdb.