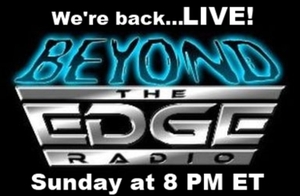 This week on BTE Radio we're joined by Phantoms and Monsters Blogger, Author, Investigator and Host of Arcane Radio Lon Strickler. During the first half hour Eric and Marie will be discussing the latest Paranormal News and Paranormal TV show reviews. Then at 8:30 we're joined by Lon Strickler to discuss some of the strange cases Lon has received and is currently working on. Lon always has great stories and cases to share and this is one show you won't want to miss.
About Lon Stricker. Lon is an Author / Fortean Reseacher / Publisher of the syndicated 'Phantoms and Monsters' blog - Host at 'Arcane Radio' - Spiritual Intuitive at 'Astral Perceptions Universal'
Lon began the 'Phantoms and Monsters'​ blog in 2005, which has steadily grown in popularity and read daily by tens of thousands of paranormal enthusiasts, investigators and those seeking the truth! My research and reports have been featured on hundreds of online media sources. Several of these published reports have been presented on various television segments, including The History Channel's 'Ancient Aliens'​, Syfy's 'Paranormal Witness'​ and 'Faked or Faked: Paranormal Files'​, & Destination America's 'Monsters and Mysteries in America.'​ As well, I have been interviewed on several radio broadcasts, including multiple guest appearances on 'Coast to Coast AM' and 'Darkness Radio.'​ I was also featured on Destination America's 'Monsters and Mysteries in America'​ television show for 'The Sykesville Monster'​ episode.
'Phantoms & Monsters Fortean Research', in conjunction with the 'UFO Research Center of Pennsylvania,' 'Pennsylvania Bigfoot Society,' 'Crypto Four Corners International' and 'Astral Perceptions Universal', investigates all facets of the paranormal and the supernatural...be it terrestrial or non-terrestrial phenomena. We are a 'not for profit' organization. Our clients are never asked or pressured to compensate us for the services we provide. Our goal is to research the reported incident and to find the true nature of the account.
'Phantoms & Monsters Fortean Research' and its associates has been, or currently, involved and / or assisting in the following investigations:
- David Eckhart Family Alien Abduction Ordeal
- Todd J. Sees Death Investigation ONGOING
- 'Conewago Phantom' Investigation ONGOING
- Flying 'Manta Ray Shaped' Anomalies Investigation ONGOING
- LaCrosse, WI Drownings Mystery
- Sioux City Entity
- Lakewood Lycan Investigation ONGOING
- Pennsylvania Bi-Pedal / Upright Canine Sightings Investigation - NEW Interactive Sightings / Reports Map ONGOING
- Pennsylvania Underground Facilities ONGOING
In 2010, Lon joined 'Beyond The Edge'​ Radio as a co-host on the weekly live show. In 2014, I left BTE Radio and partnered with Sean Forker at 'Arcane Radio.'​ The show is broadcast live on Wednesday nights at 10PM ET / 7PM PT
I have written the following books:
Phantoms & Monsters: Unexplained Encounters
Phantoms & Monsters: Mysterious Encounters
Phantoms & Monsters: Bizarre Encounters
Phantoms & Monsters: Strange Encounters
Phantoms & Monsters: Cryptid Encounters
Interests: Paranormal & Fortean Research, Cryptozoology, Spiritual & Esoteric Metaphysics, Folk Magic & Root Conjure, Spiritual Alchemy & Mysticism, American and British History, Religious History / Templar Lore, Creole Religions, Native America Traditions & Heritage, Entertainment / Sports Collectibles
To learn more about Lon visit www.phantomsandmonsters.com or www.arcaneradio.com