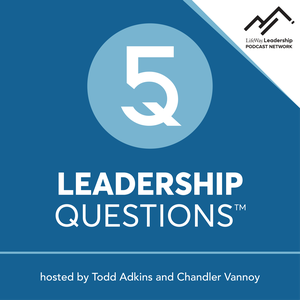 In this episode of the 5 Leadership Questions podcast, Todd Adkins and Ben Mandrell are joined by Carey Nieuwhof, author of Didn't See It Coming. During their conversation, they discuss the following questions:
* What is a conflict or failure that has benefited you and your leadership?* How are you adjusting to the identity change of who you've been for so many years is not who you are anymore when you wake up?* Who or what has been the greatest leadership influence in your life?* What do you want your leadership legacy to be?* How do you keep you well full of fresh water so that when you sit down to write you have something fresh to say?
BEST QUOTES
"When I burned out, it was so dark. I thought life, leadership, and ministry were over.""Here's the irony, I write on leadership, but I am also the leadership lid.""Understanding what the problems are and then dealing with them in your own life those are two different things.""If it's on vision, on strategy, and on budget, then I don't even need to know about it, you just go for it.""In my devotion time in the morning, I have made it a discipline not to read anything that I would be using in any direct sense in ministry that day or that season.""The reality is most churches pay horrible and that puts stress on families.""The culture we create at work has a direct impact at home.""I want people who have worked with me to go home feeling built up.""Everything I say isn't ideal, but at least it's me. And that means I can do it again tomorrow."
RECOMMENDED RESOURCES
LifeWay Leadership Podcast Network
New Churches Q&A; Podcast
Ministry Grid Free Courses with Carey Nieuwhof - Complete a course in January to receive a free copy of Didn't See It Coming by Carey Nieuwhof
Didn't See It Coming by Carey Nieuwhof
CareyNieuwhof.com
The Truth About Employee Engagement by Patrick Lencioni
Why Leadership is So Exhausting and What to Do About It