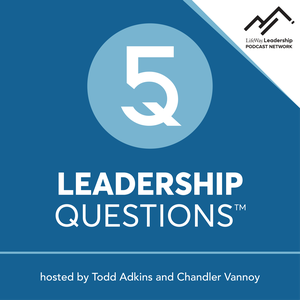 In this episode of the 5 Leadership Questions podcast, Todd Adkins and Brad Waggoner breakdown the leadership book The Effective Executive by Peter Drucker. In their conversation they discuss the following questions:
* What's the book and why does it matter?* Overview of the book* How applicable is the book to leadership in my church?* What are things churches should ignore from the book?* What can you do this week in light of the book?
BEST QUOTES
"Effective leaders fight against being caught up in the day-to-day machinery of their business or ministry.""He would say effectiveness is a learned habit.""This book is applicable to anyone leading any team.""With the limited amount of time we have to assess things, we have to be selective of where we go to receive information.""We want to be careful about not sacrificing what's biblical, effective, or efficient on the altar of what's traditional.""Consensus is not the precondition of leadership, it is the by-product of leadership.""I think there is relevance for this church in this book and how you staff.""One of the trickier parts of leading a church is knowing how fast to change and what to change, but I think we have been too cautious.""I would fall in perfect alignment with him on the importance of making effective decisions, but how you lead people through change in the church can't be immediately applied.""If you have a team that you lead at your church, take a moment and ask where you may be slouching off."
RECOMMENDED RESOURCES
LifeWay Leadership Podcast Network
The Effective Executive by Peter Drucker
Auxano
Staff Your Church for Growth by Gary McIntosh
The Leadership Challenge by James Kouzes and Barry Posner
Good to Great by Jim Collins
The Speed of Trust<a href="https://www.amazon.com/SPEED-TRUST-Thing-Changes-Everything/dp/1416549005/ref=sr_1_1?