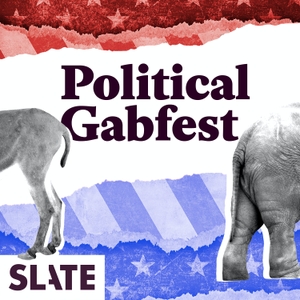 David, John and Emily discuss Liz Cheney's defiance of Trumpists; Trump's Facebook suspension; and meatlessness getting (more) political.
Here are some notes and references from this week's show:
Kimberly Robinson for Bloomberg Law: "Video: The Wild Hypotheticals Posed by Justice Stephen Breyer"
John Dickerson for CBS News: "Ron Klain on 'Face the Nation,' May 2, 2021"
Evelyn Douek for Lawfare: "It's Not Over. The Oversight Board's Trump Decision is Just the Start."
These Truths: A History of the United States, by Jill Lepore
Ezra Klein for the New York Times: "Let's Launch a Moonshot for Meatless Meat"
John Dickerson for Slate: "Go for the Throat!: Why if He Wants to Transform American Politics, Obama Must Declare War on the Republican Party."
John Dickerson for JohnDickerson.com: "End of the Year Thoughts 2020 (Five Months Too Late)."
Never Let Me Go, by Kazuo Ishiguro
Hard Knocks, HBO
Here's this week's chatter:
John: Klara and the Sun, by Kazuo Ishiguro
Emily: Mom Genes: Inside the New Science of Our Ancient Maternal Instinct, by Abigail Tucker
David: Formula 1: Drive to Survive, Season 3, Episode 9: Man on Fire
Listener chatter from Michael Sagmeister: Mitchell Clark for The Verge: "Bad Software Sent Postal Workers to Jail, Because No One Wanted to Admit It Could Be Wrong."
For this week's Slate Plus bonus segment, Emily, John, and David discuss how the freedom they feel to share their opinions has changed with their jobs and the journalism environment.
If you enjoy the show, please consider signing up for Slate Plus. Slate Plus members get benefits like zero ads on any Slate podcast, bonus episodes of shows like Slow Burn and Dear Prudence—and you'll be supporting the Political Gabfest. Sign up now at slate.com/gabfestplus to help support our work.
Tweet us your questions and chatters @SlateGabfest or email us at [email protected] (Messages may be quoted by name unless the writer stipulates otherwise.)
Podcast production by Jocelyn Frank.
Research and show notes by Bridgette Dunlap.
Learn more about your ad choices. Visit megaphone.fm/adchoices