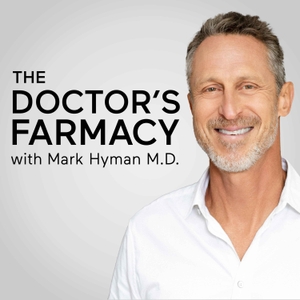 Meat or Plants: Which is Better for Reversing Climate Change? | This episode is brought to you by Thrive Market, Athletic Greens, and Rupa Health
Using the lens of Functional Medicine, we know we can't blame just one part of the body for disease or dysfunction. The same goes for agriculture and climate change. We can't just blame cows and call it a day. It's a complex issue that deserves a comprehensive plan of action. Regenerative agriculture recognizes the essential role of grazing animals in an ecosystem to create stronger soils, healthier crops, and produce better meat. On today's episode of The Doctor's Farmacy, I sit down with Nicolette Hahn Niman to explore where we've gone wrong when it comes to raising meat, some of the biggest areas to focus on for a positive climate impact, and so much more. As a vegetarian rancher for almost two decades who now eats meat, she offers a unique perspective on raising and eating animals. 
Nicolette Hahn Niman is a writer, attorney, and livestock rancher. She authored the books Defending Beef (2014, and second ed. 2021) and Righteous Porkchop (2009), as well as numerous essays for the New York Times, Wall Street Journal, and Los Angeles Times. She has also written for The Atlantic, The San Francisco Chronicle, and The Earth Island Journal, among others. Nicolette has appeared on The PBS Newshour, The Dr. Oz Show, and in numerous films and documentaries, including Eating Animals and Sustainable. Previously, she was the Senior Attorney for the environmental organization Waterkeeper, where she focused on agriculture and food production; before that, she was an environmental lawyer for National Wildlife Federation. Today, she lives in Northern California with her two sons, and her husband, Bill Niman, founder of the natural meat companies Niman Ranch and BN Ranch.   This episode is brought to you by Thrive Market, Athletic Greens, and Rupa Health.
Thrive Market is offering all Doctor's Farmacy listeners an extra 25% off your first purchase and a free gift when you sign up for Thrive Market. Just head over to thrivemarket.com/Hyman. 
Athletic Greens is offering Doctor's Farmacy listeners a full year supply of their Vitamin D3/K2 Liquid Formula free with your first purchase, plus 5 free travel packs. Just go to athleticgreens.com/hyman to take advantage of this great offer.   Rupa Health is a place for Functional Medicine practitioners to access more than 2,000 specialty lab tests from over 20 labs like DUTCH, Vibrant America, Genova, Great Plains, and more. You can check out a free live demo with a Q&A; or create an account at RupaHealth.com. 
Here are more of the details from our interview: 
Four popular camps of thinking around meat production and consumption (6:09)
The history of how beef came to gain the reputation as the most environmentally destructive and least healthy food we eat, and why this is actually a much more nuanced issue than the question, is beef good or bad? (7:34)
Is regenerative agriculture the solution to climate change? (13:13)
Why Nicolette started eating meat again after decades of being a vegetarian and what she noticed about her food cravings after making this change (16:26) 
The vital role that beef and animals play in creating healthy food and ecological systems (27:39)
Soil as the foundation of the food system and planetary sustainability (31:42)
Why we need to move away from the dualistic view of meat vs. no meat (40:22)
Animal and human's innate nutritional wisdom (44:18)
The latest research on methane, cattle, and global warming and what we previously got wrong (54:56)
The role of policy in mitigating climate change (1:04:07)
Get a copy of Defending Beef: The Ecological and Nutritional Case for Meat at https://www.chelseagreen.com/product/defending-beef-pb/.
See acast.com/privacy for privacy and opt-out information.