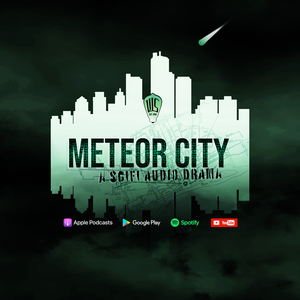 Meteor City
By Wrightwood Studios
What's Meteor City about?
Meteor City is an alternate history sci-fi audio drama. In 2008, a freak meteor shower hit Detroit, killing hundreds and displacing thousands. Hundreds of people were quarantined for radiation exposure for days, weeks and months. The unlawfully detained people began to revolt ending with Radiation Riots of 2009, causing further damage to Detroit. Bianca Diaz, a vlogger returns to Detroit, nearly a decade after fleeing with her mother, after the death of her brother and father. Wanting a change of pace, Bianca decided to come back home for the 10 year anniversary, to tell the stories of the dead, the missing and the remaining citizens of Meteor City.
Shortly after the returning, Bianca realizes that Meteor City, New Detroit and the people left behind are not what they appear to be. One frustrating question after another leads Bianca to the truth... or more accurately the lies that New Detroit was built on.
© 2018 Wrightwood Studios