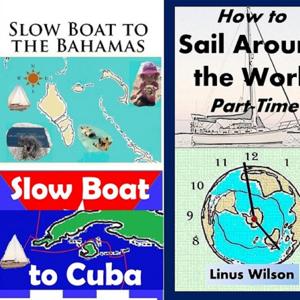 This story of disaster at sea has a lot of unanswered questions. 
You'll see extensive interviews of the two women rescued 5 months at sea on a 50-foot sailboat adrift in the Pacific Ocean. On May 23, 2017, Jennifer Appel and Natasha Fuiva and the dogs Valentine and Zues departed Oahu, Hawaii in the sailing vessel Sea Nymph bound for Tahiti. On October 25, 2017, they were rescued by the US Navy and Marines of the USS Ashland 900 miles from Japan. Listen to their harrowing story of survival at Sea. Captain Linus Wilson, OUPV-Inland the creator of the Slow Boat Sailing brings up unanswered questions in this deep dive into the disaster with extensive interviews with the survivors. They survived attacks from 50-foot whale sharks.
An edited version of:
AT SEA
10.27.2017
Courtesy Audio
This is a media availability on a telephone conference line moderated by public affairs officer Lt. Adam Cole. Interviewees include rescued mariners Jennifer Appel and Tasha Fuiava, and personnel of the USS Ashland.
Date Taken:
10.27.2017
Date Posted:
10.27.2017 13:24
Category:
Newscasts
Audio ID:
49889
Filename:
1710/DOD_105018743.mp3
Length:
00:35:14
Year
2017
Genre
Blues
Location:
AT SEA
PUBLIC DOMAIN   
This work, Interview with rescued mariners and Navy personnel, must comply with the restrictions shown on https://www.dvidshub.net/about/copyright.
Appears in this episode.
Subscribe to get season 2 in the crossing the Pacific and sail the Marquesas, Fakarava, and Tahiti.
We use a Mantus Anchor and swivel on our boat. Get all your Mantus gear at
http://www.mantusanchors.com/?affiliates=15
Mantus Anchors is a corporate sponsor of this episode.
Support us at
www.Patreon.com/slowboatsailing
Slow Boat to the Bahamas
https://www.amazon.com/dp/B018OUI1Q2/
Slow Boat to Cuba
https://www.amazon.com/dp/B01MFFX9AG
and
How to Sail Around the World-Part Time
https://www.amazon.com/dp/B01B0OFYNW/
have been #1 sailing bestseller on Amazon.
Associate Producer, Anders Colbenson
Sign up for our free newsletter for access to free books and other promotions at www.slowboatsailing.com
music by www.BenSound.com
Copyright Linus Wilson, 2017