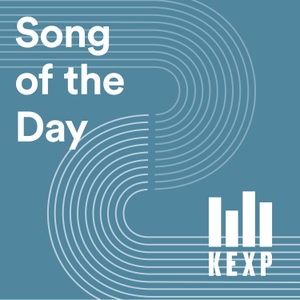 Nailah Hunter - "Black Valhalla," a 2020 self-released single.
With "Black Valhalla", Los Angeles-based composer/harpist Nailah Hunter imagines a place where Black people "are safe and exalted." In this interview with KEXP's Dusty Henry, Hunter explains:
I mean, again, Valhalla being the place where the Nordic gods live and the people... Actually just kidding, they don't live there, but it's a place where warriors go. I have always loved that idea. And I love Vikings and all of that stuff. But I realized how Black people are left out of that narrative. So obviously, the name of the song had to be 'Black Valhalla.' But I think the idea initially was like to speak to the fallen, the slain black people. But then at the same time, not wanting to martyr them in that way where it's like, 'Oh, they're fallen soldiers.' It's like, no, that was someone's son that's now dead. That was someone's daughter who's now dead.
So I'm not trying to glorify it in that way, but just thinking of an official place where their sacrifice, what happened to them is actually recognized for what it is. And just a 'safe and glorious hall' – we all deserve that, Black people deserve that. We've been through a lot. So that's where that was coming from. And yeah, just this idea that it's not quite safe here on this plane for black people. Maybe somewhere else is safe. It's a global thing, but maybe it's different on another plane.
In conjunction with KEXP's Music Heals: Mental Health, we're asking Song of the Day artists to spotlight a different organization. Hunter chose the Loveland Foundation, an organization that provides therapy for young Black girls and women. (Proceeds from today's featured track are being donated to the Foundation.) In her KEXP interview, she explains:
I was just searching for the right organization and that came up and I was like, "Yes, this is exactly it." Because black girls need to talk about what's going on. It is so difficult to be a black woman in this world. And you need to be able to talk about that with someone else. And I just know for me, like when I found my African-American therapist, I was literally changed. I had been to therapists before who were white and it just didn't work because they didn't understand... they couldn't understand certain aspects. So I'm just thankful for any organization that is connecting black girls to therapists. So that's why I chose them.
Learn more about the Loveland Foundation here.
Donations are accepted here.
Support the show: https://www.kexp.org/donate
See omnystudio.com/listener for privacy information.