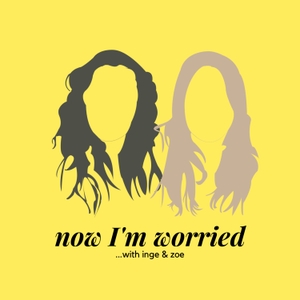 Now I'm Worried presents The Worry Bucket!
An additional bonus ep for us to really concentrate on the juicy worries you have every week. This week includes:I don't change my bedding often enoughMy MOT will cost a fortuneI can't get pregnantI don't know how to be sexy.
Warning - we do talk about sex a bit in this ep so if you're in our families...maybe skip it!
This bonus only exists because of YOU the listeners, so thank you thank you from the bottom of our hearts <3
If you feel so inclined we would love a rate, review or at very best a subscription! Just to boost us a li'l bit ;)
The Worry Bucket is empty once again - head to Instagram to join in the amnesty
------------ Welcome to Now I'm Worried, the podcast where we discuss your worries and throw them into our worry bin, never to be worried about again
We are presented with SO MUCH information on a daily basis, it's no wonder we don't know what we should or shouldn't be doing.
We are Inge and Zoë, two friends that started a podcast to chat through things that really shouldn't be broadcast. Think of us like two friends down the pub that you are delighting in eavesdropping on.
Find us on Instagram: @nowimworried @inge.hunter @zoerdew Support this show http://supporter.acast.com/now-im-worried. See acast.com/privacy for privacy and opt-out information.