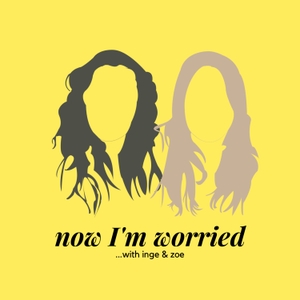 Episode 006 - No One Knows What They Are Doing
01.11.2021 - By Now I'm Worried
We had a break, ok? So sue us.
Actually, we did have content recorded for over the holiday break, but honestly? It was coming from not such a great place, and in the edit we knew we wouldn't be making you proud if we sent that into the world so we came up with some new rules! We will record weekly from now on, so your episodes will be F R E S H and the worries you send in will be on a weekly basis!
This week, Inge tasked Zoë with researching the government; that wasn't a scary prospect. Can we trust them? Also, Zoë is in full on worry about everything mode. As per usual.
In your worries, we clear the bucket out for a fresh 2021 start, so in this longer than usual episode - if you have entered a worry on our form until the end of 2020 we covered it!
That means our bucket is empty - want to add yours?
Email the podcast: [email protected]
Enter the worry amnesty: https://forms.gle/neGzYPCJnpMcxrrw9
-----------------------
Welcome to Now I'm Worried, the podcast where we discuss your worries and throw them into our worry bin, never to be worried about again
We are presented with SO MUCH information on a daily basis, it's no wonder we don't know what we should or shouldn't be doing.
We are Inge and Zoë, two un-woke friends in their 30s, wanting to live a better life through questioning things that we are told and working our between us what we should and shouldn't be worried about.
Find us on Instagram: @nowimworried @inge.hunter @zoerdew Support this show http://supporter.acast.com/now-im-worried. See acast.com/privacy for privacy and opt-out information.