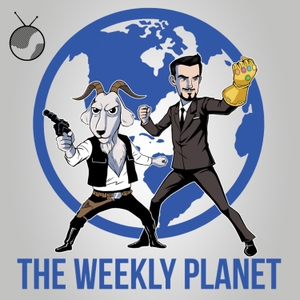 Join the 10 million who have tried Harry's. Claim your special offer by going to HARRYS.COM/WEEKLYPLANET.
We finally got the release of Once Upon A Time Of Hollywood so let's talk about that. Also more Star Wars news than ever including an Obi Wan Kenobi Disney Plus series, a sequel to Aladdin, bad news for Robocop and Krypton and The New Mutants is crap apparently. Thanks for listening!
Donate Here Please: https://www.theintrepidfoundation.org/planetbroadcastingfundraiser
Suggestibles Podcast: https://aca.st/cf053a
0:00 The Start
1:42 RIP Peter Fonda & Richard Williams
4:49 Obi Wan TV series probably
9:20 GOTBros Star Wars trilogy
12:10 Rian Johnson Star Wars trilogy
13:48 Aladdin live action sequel
18:57 Robocop Doesn't Return
21:26 Krypton cancelled
26:54 The New Mutants is crap
34:46 Once Upon A Time In Hollywood (spoilers 53:11-1:08:12)
1:08:12 What We Reading/What We Gonna Read
1:15: 49 Letters It's Time For Letters
James' Twitter ► http://twitter.com/mrsundaymovies
Maso's Twitter ► http://twitter.com/wikipediabrown
TWP Itunes ► https://itunes.apple.com/us/podcast/the-weekly-planet/id718158767?mt=2&ign-mpt;=uo%3D4
TWP Direct Download ► https://play.acast.com/s/theweeklyplanet
TWP YouTube Channel ► https://goo.gl/1ZQFGH
Patreon ► https://patreon.com/mrsundaymovies
Buy Tarantino Collection Amazon ► https://amzn.to/2oPglgW
T-Shirts/Merch ► https://www.teepublic.com/stores/mr-sunday-movies
 See acast.com/privacy for privacy and opt-out information.