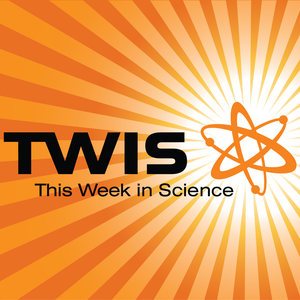 What is in the This Week in Science Podcast?
Bennu Boop, Bee Barrier, Diabolical Ironclad, Nasal Organ?, Sanctuary Service, Happy Ending, Interview w/ Dr. Josiah Zayner on Biohacking & DIY COVID Vaccine, And Much More…
Support us on Patreon!
Check out the full episode on our YouTube channel. You can do that here.
Disclaimer, Disclaimer, Disclaimer!!!
Who knew AOC is a gamer?
She played Among Us on Twitch
The stream was so rich
You know that I never would flame her!
Because here lies the science
We steer away from MMPORG violence.
And, though my cohosts are gone
The show carries on
You know you can always find
This Week in Science
coming up next…
Let's start with some quick science news stories…
Bennu Boop
NASA's OSIRIS-Rex mission to asteroid Bennu was successful yesterday. After four years, and 200 million miles, the spacecraft performed a touch and go maneuver in which it was on the surface of the asteroid for 16 seconds to collect up to 60 grams of regolith.
Bee Barrier
If you are a child of the 80's you are probably well aware of the terrifying spread of Africanized or Killer bees. According to a study out of UC Davis, these bees appear to be limited by climate, unable to survive colder winters.
Diabolical Ironclad
A southern California beetle called the diabolical ironclad beetle gave up its secrets of impermeability to science. A new paper in Nature details the microscopic nature of the materials making up its protective exoskeleton...