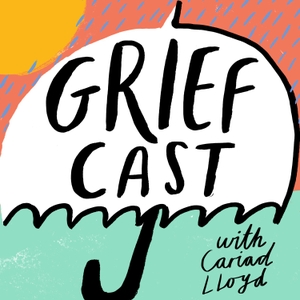 #103 Olivia Williams
11.06.2019 - By Griefcast
This week Cariad talks to actress Olivia Williams (Sixth Sense, Dolls House, An Education) about her Dad who died six years ago. November is Pancreatic Cancer Awareness month and Olivia was recently diagnosed with a cancer in her pancreas. Although her cancer wasn't officially pancreatic cancer, there are so few survivors of PC that Pancreatic Cancer UK have asked her to talk about her experience to raise awareness of the disease. As ever they talk grief, morgues + Bonne Maman jars.
Demand Survival Now is PCUK's new campaign for pancreatic cancer awareness month, if you head to www.demandsurvivalnow.org.uk you can sign and spread the word on social media. Despite huge progress in the diagnosis and treatment in recent decades, pancreatic cancer remains the deadliest common cancer. It is 8 times more deadly than other common cancers like prostate, breast or bowel cancer. There are no screening programmes or early detection tests and vague symptoms – such as back pain, indigestion or weight loss – mean tragically pancreatic cancer is detected too late to save lives. 1 in 4 people die within a month of diagnosis. We need Governments to recognise pancreatic cancer as an emergency and act, if we are to transform survival. 
You can follow the Griefcast on twitter and instagram @thegriefcast.
Griefcast won Gold (always believe in your soul) in Best Entertainment, Best Interview + also Podcast of the Year 2018 at the British Podcast Awards and Best Podcast at the ARIA's. It is hosted by Cariad Lloyd, edited by Kate Holland, recorded at Whistledown Studios and the music is provided by The Glue Ensemble. And remember, you are not alone. Support this show http://supporter.acast.com/griefcast. See acast.com/privacy for privacy and opt-out information.