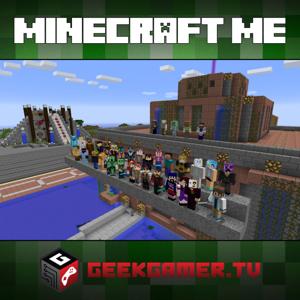 Patreon Games time!  This time we play a new game called "Diamond Hunt" – Also this week we talk about the new 1.8 update with the public server, the Minecraft News of the Week and much much more!
Show notes and episode page here: http://ggtv.me/mm170
Please RATE, FOLLOW and SUBSCRIBE!
Support Minecraft Me on Patreon! http://patreon.com/minecraft
YouTube:  http://youtube.com/GeekGamerNetwork
Dailymotion:  http://dailymotion.com/GeekGamerTV
Twitter:  http://twitter.com/GeekGamerTV
Facebook:  http://www.facebook.com/geekgamertv
Google+:  http://plus.google.com/+GeekGamerTV
Steam:  http://steamcommunity.com/groups/geekgamertv
Hosts: Chase Nunes, Joseph Falbey
Minecraft can be found at: http://www.minecraft.net
 
Support the show on Patreon and become one…TODAY!
GeekGamer.TV Updates via E-Mail: Subscribe to GeekGamer.TV by Email
Like our Facebook Fan Page, Join our Facebook Group, Steam Gaming Group and also follow us on Twitter!
Connect with us!
Minecraft News:
XBOX 360 – 3 Years!
http://www.inquisitr.com/2093617/say-goodbye-to-flying-animals-in-minecraft-with-the-latest-xbox-one-title-update/
Design a Park for Australia!
http://www.cnet.com/news/young-minecraft-players-invited-to-design-the-perfect-park/
Vote for the Server Challenge!
Patreon Supporters for This Episode!
AKBoarder23
allieblaster
AMaeBarkley1
andyb2k
aractor
Bburg
Bburg(zowka_)
BevK_2
bigb13
billt2006
BK_2evedYHVH
BlastForCats
BlkR0se
BuckeyeCarl
carter98521
CEH1
CheekyMonkeyIan
Chewbacco_77
chloe1103
ColinLovesGreen
covarianttensor
CrystalCat19
Dangelus
deadigger
Deadigger
DesignOutlaw
Dgtlreaper
Dizastary
DoctorSmeg
dogeking64
doogie89
Doudrious
douglas1989r
dtherr
Ender_Guy14
ExtraordinaryBen
Fifty2Eighty
fuzzycupid
G0atbabe
gpa46
gradrock
Gradrok
Icon_Z1
Indiana_Dave
IRON_Midge
JasonGoose
jeninthemorning
jgeekw
JoseO42
josephizf