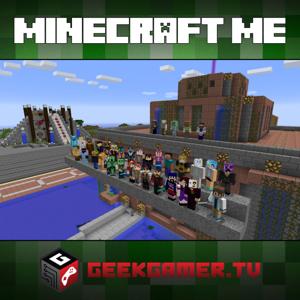 For you who support us…the Patreon's!  This week we head back to the friendly confines of AT&T; Park for another round of the Survivor Games!  We also make a special announcement on the short term future of the show!  So please take a listen and enjoy!
Show notes and episode page here: http://ggtv.me/mm184
Please RATE, FOLLOW and SUBSCRIBE!
Support Minecraft Me on Patreon! http://patreon.com/minecraft
Server Information:  http://geekgamer.tv/mcserverinfo
YouTube:  http://youtube.com/GeekGamerNetwork
Dailymotion:  http://dailymotion.com/GeekGamerTV
Twitter:  http://twitter.com/GeekGamerTV
Facebook:  http://www.facebook.com/geekgamertv
Google+:  http://plus.google.com/+GeekGamerTV
Steam:  http://steamcommunity.com/groups/geekgamertv
Hosts: Chase Nunes, Joseph Falbey
Minecraft can be found at: http://www.minecraft.net
 
Support the show on Patreon and become one…TODAY!
GeekGamer.TV Updates via E-Mail: Subscribe to GeekGamer.TV by Email
Like our Facebook Fan Page, Join our Facebook Group, Steam Gaming Group and also follow us on Twitter!
Connect with us!
Minecraft News:
 
No Minecraft News in the show this week!
 
Patreon Supporters for This Episode!
allieblaster
XineasHD
Gradrok
Taka_Akai
BlkR0se
BlastForCats
BuckeyeAnnabelle
proslaws
Deadigger
DesignOutlaw
Ronin_Slain
jgeekw
zowka_
AMaeBarkley1
DUNCANxIDAHO
Dizastary
Peggum
douglas1989r
JoseO42
dtherr
BuckeyeCarl
AKBoarder23
plleg
jasongoose
T1mberW0lf
Michael244892
jeninthemorning
kiendro
PayBack
IRON_Midge
WndDncr
maloch
cherryberries
legoman67627
matagin
DeathOfTheDepths
Emeraldbeauty526
Masspecialist
Diamondbeauty319
JESSIEPIGMAN
upsidedownoj
Shugshug
LilithDay
renardw
Doogie89
Sheaffer1913
CEH1
ccocking
liser5
SinistralCalluna
TamiTam55
NickSPNT
Dangelus
Indiana_Dave
tyler58546
billt2006
Printmasterz
Mr_Buzzz
RattDog42
Zombie_Pigman42
SirChaos
unicornkarma
jwalls1082
iMineguy1776
kariplaysgames
AndreAwesome
Okay_Bye
JetFlexer
fuzzycupid
SoccerRox19
melon_max
_____Doge_____
ReaperOfSouls212
Lorddude1997
Zeepikay
skytraveler2012