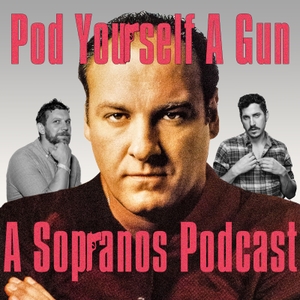 Pod Yourself A Gun, the world's only Sopranos rewatch podcast, is back with another fresh and wholly original hour of thoughtful Sopranos critique/offensive impressions of Italian-Americans and jokes about dick sucking lips. This week Matt and Vince watched season 2, episode 3 "Toodle-Fucking-Oo" or as Vince titled it "Hey We're Old School, Right?"
This episode introduces Richie Aprile and Beansy into Sopranos lore and we see three generations of Soprano women (Meadow, Janice and Livia) flex their manipulation muscle.
General themes include:
-Old school vs new age
-Dr. Melfi vs Jennifer Melfi
-Lips vs tits
-Can you beat a woman if she's not your wife?
-You can't even beat your kids anymore!
Matt and Vince welcome the hilarious Shereen Younes (of the Ethnically Ambiguous podcast) who offers a MIND BLOWING theory regarding the relationship between Beansy and Richie. It honestly will change the way you watch the rest of season 2. Enjoy this episode you worthless bookyaks. GABAGOOOOOL!