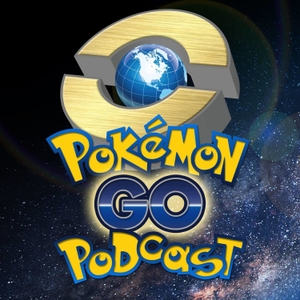 Another Fine Podcast on the Giant Size Team Up Network
The title is brought to you by LadyJasmin
Welcome to Pokémon GO Podcast! Charles and Joe are back with an amazing episode. Niantic has provided us some information about events leading up to GO Fest. Based on the latest APK breakdown it appears we will soon be able to invite our friends to join us in raids. We wish that instead of catching Pokémon with costumes we could merely unlock costumes. We wonder when we'll get another legendary Pokémon in our research breakthrough boxes. A new Pokémon game was announced for the Nintendo Switch and mobile devices. All of that incredible content, and of course YOUR feedback and comments!
Thanks to our awesome Patrons we will keep producing and improving the Pokémon GO Podcast. With your help everyone "catch 'em all," and you can start by going to giantsizeteamup.com/support/ and growing your community! We thank you all, for your support, and we hope you can help us serve you better as the show continues to grow and evolve.
Thanks to ALL of our awesome listeners, especially our Patrons.  Due to their generous Patronage, we will continue building this great community!
PokeMiners' In-Depth APK Teardown of 0.179.0
Stickers from an iOS app released in 2016, found all futur stickers not released yet ?
Celebrate Pokémon GO's fourth anniversary by completing weekly challenges to unlock more species of Pokémon that'll appear during Pokémon GO Fest 2020!
Updates to events: Pinsir Raid Day
Any chance we'll ever get Legendary and Mythical Pokémon in research breakthroughs again?
Team Up to Battle in Pokémon UNITE!
Follow Pokémon GO Podcast on Facebook, Twitter, Twitch, Reddit, YouTube, and PokémonGoPodcast.com
Hosts: Charles McFall and Joseph Ard
Pokémon GO Podcast is a proud member of the Giant Size Team Up Network
---
Send in a voice message: https://anchor.fm/pokemongopodcast/message
Support this podcast: https://anchor.fm/pokemongopodcast/support